Enquire
Claddings
Please note
All of the claddings are nominal sizes (i.e size before machining) and are machined out of kiln dried Scandinavian redwood to give maximum life expectancy.
Most important
We will not use pressure treated timber as this treatment method reverses the kiln drying process of the timber by adding water which will lead to greater timber movement (i.e shrinkage ,warping and twisting)
(16x150 TGV)
16mm x 150mm prepared tongue and groove V jointed with an extended 10mm tongue and groove (normally a 5mm joint) this thickness of cladding is used on our basic range of sheds and is widely used in the shed industry.
(19x150 shiplap)
19mm x 150mm prepared rebated shiplap with an extended 15mm rebate (normally a 10mm rebate) this is our most popular cladding because its thicker than most shed claddings on the market and its long life expectancy it is available on our full range of buildings (you can't go wrong with this one).
(22x125 loglap)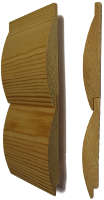 22mm x 125mm prepared rebated Loglap this board has a curve cut into the outside profile to give a log effect and is used mainly on our summer house and workshop ranges or where a visual effect is required.
(25x150 shiplap)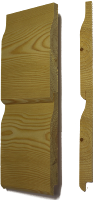 25mm x 150mm prepared shiplap with an extended 15mm rebate (normally a10mm rebate) this is our thickest cladding and is available on most buildings and mainly on our workshop and summer house ranges due to its long life expectancy and strength.
Do you have any questions about the Claddings product?
▼